Minneapolis Interpreter Services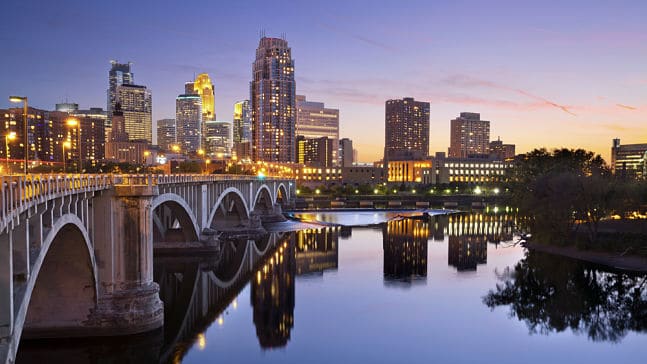 Minneapolis was once the world's flour milling capital and a hub for timber, but today the city is the primary business center between Chicago and Seattle. Lighthouse Translations blends right in with its Minneapolis Interpretation Services, performing the art of linguistic services and technological solutions. Minneapolis is a beautiful city, rich in natural resources and noted for its music and fine arts.
The city draws creative people and audiences for theater, visual arts, writing, music and business.
Lighthouse Translations is the go-to resource for Minneapolis Interpreter Services if you're coordinating a conference or business event and this beautiful city has become your ideal point of meeting. Minneapolis is the 16th largest metropolitan area in the United States, with such a culturally diverse city; we want you to know that we're available for your interpretation services. Whether you need just the interpreters, interpretation equipment, document translation services or the whole package, we're here to help.
Minneapolis is recognized as a global city. Our primary goal is to help you expand your business on a global level, where you can communicate and do business effectively and professionally, and be an integral link to the global economy.
Why Lighthouse Translations?
Interpretation is one of the most difficult skills any linguist can master, that's why our team consists of only professionals with vast experience that can provide a quality service that can't be beaten.
We strive to provide interpretations services tailored to you, your business and your event, so you can rest assured that you're getting the right person by your side. We encourage you to browse our site for more services and information. You can access our other services pages using the links below. The best way to learn more about us, however, is to reach out using the form to the right or calling us at the number at the top of the page.
Our Translation & Interpretation services include:
Simultaneous Interpretation
Conference Interpretation
Business Translations
Legal Document Translations
Medical Translations
Website Translations
Interpretation Equipment Rentals
This is just a short list of the services that Lighthouse Translations provides.
Customer care and a quality service are at the heart of our business, if you don't see the specific service or need that you're looking for, you can contact us and discuss your requirements and we'll advise on how to best proceed with your project, or simply use the form to the right and we'll contact you hassle-free.
Many visitors find their way to the Twin cities of Minneapolis and Saint Paul every year, drawn by a place that offers so much in culture and cuisine. If this is the first time you have ever been to Minneapolis or you are returning to the city, there are a few of our favorite things to do and places to relax and unwind from work. If you are passionate about art, the must-see places to go are the Minneapolis Institute of Art, the Frederick R. Weisman Art Museum or the Walker Art Center. If you enjoy shopping and you are looking for a more unique shopping experience, head to the Midtown Global Market. Lastly, you can hit the food spots on Nicollet Avenue for dinner.
If you are ready to coordinate your Minneapolis Interpreter Services don't hesitate to contact us, using the form on the right or calling us at the number at the top, or take advantage of a FREE price quote today!
"You betcha" we're ready to help you with all of your Minneapolis Interpreter Services!