Boston Interpreter Services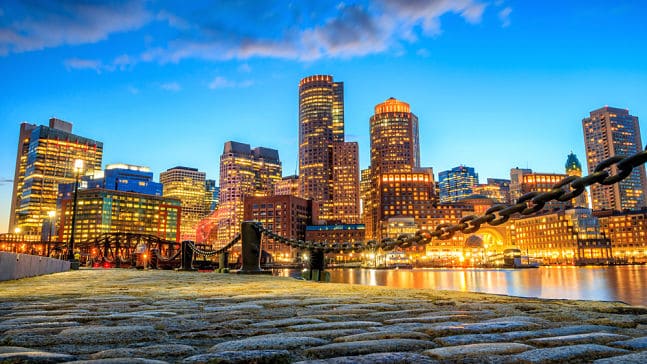 Lighthouse Translations is an industry-leading resource for Boston Interpreter Services. Whether you need help with document translations, interpretations, translation rental equipment, or the whole package, we're here to help!
It's an extremely busy area where many companies are located like Samuel Adams, Guillete, Converse, GE Measurement & Control Solutions, The Boston Globe, Ocean Spray among many more. If your next global conference is in Boston, we are happy to assist you with our translation services.
Get In Touch with Us
The city of Boston, Massachusetts
Boston is considered as one of the most important places in the United States. A state so rich in history being known as the birthplace of the American Revolution. An area which is filled is professional and academics. Nowadays, Boston is a very busy area with a numerous variety of prestigious colleges and universities starting with Harvard University and MIT.
When visiting this majestic city:
Here are a few things to do and places you can go while your stay. Boston Tea Party Ships and Museum, Old State House Museum Admission, Adam National Historical Park. For those sporting fans, you may attend either a Boston Celtics basketball game or a Boston Red Sox baseball game.
Boston Interpreter Services
When businesses, individuals, and organizations need interpreter services in Boston, they turn to Lighthouse. Whether you are in need of interpreter services, family document translation, conference services, or need to access interpretation equipment for your event, we can help.
About The City of Boston

Boston is a busy metropolis with a rich history. It is home to many large corporations including Converse, The Boston Globe, Ocean Spray, GE Measurement and Control Solutions, and Gillette just to name a few. The city is also a hub of higher education. It is home to Harvard, Boston University, Boston College, Berklee College, Wellesley College, Babson College, MIT, Northeastern University, and many other schools.
Boston is also among the oldest cities in the United States. Many of the families living there have lived in the Boston area for generations. In addition to this, visitors to the Boston and Cambridge area can visit the Freedom Trail. This takes visitors past 16 historical sites including the Paul Revere House, and the site of the Boston Massacre. They can also visit Fenway Park, museums, gardens, shopping districts, and historical neighborhoods.
What does this mean? It means that Boston attracts people from around the world to work, attend school, vacation, and hold events. It is for these reasons that Bostonites and visitors to the city need reliable, interpreter services.
Boston Translation Services

We are happy to offer a full range of translation and interpretation services in Boston. These include, but are not limited to the following:
Business Translations

We have completed countless business translation projects for companies all over the Boston area. Our business translation services include:
If you have any business documents in need of translation, we have staff available to help you immediately.
Website Translation

As your business grows into new markets, you'll need to translate and in some cases localize your web content. Even better, you can plan for internationalization when you create your web pages. Whatever choice you make, we are here to help ensure that all of your customers enjoy a comfortable and familiar website experience.
Technical Translation Services

Boston is a tech hub. Because of this, we have worked with companies across many different industries to provide technical translation services. Our team can help you translate blueprints, user manuals, software documentation, feasibility studies, patent applications, process manuals, QA documentation, and more.
Conference Interpreting

We know that putting together a business conference is a major task. You invite people from around the world to attend, and you only have one chance to get things right. In order to make your conference sessions accessible to all attendees, you may need to employ the services of conference interpreters. Our conference interpreting services includes:
Real Time Interpreter Services

Real time or simultaneous interpretation is provided in person, via an internet connection, or over the phone. Whether you need simultaneous interpreter services for conferences, business meetings, conference calls, videoconferences, webinars, or you need escort interpreter services, you can count on us for accurate and professional assistance.
Medical Translations

When it comes to translation services, there's no greater need for accuracy than in the area of medical translations. That is why we only staff certified translators with proven competencies in this area. Hire us, and you can be confident that your medical documents will be translated carefully and accurately.
Why Choose Lighthouse For Boston Translation Services?

At Lighthouse, we have built a staff of more than 200 translators and interpreters. We are able to provide our services in more than 20 languages. Those numbers are increasing each year. In addition to this, we have worked hard to earn a reputation as one of the top, translation service providers in the world. Contact us today to see what we have to offer you!
Our Boston services include:
Simultaneous Interpretation
Conference Interpretation
Business Translations
Legal Document Translations
Medical Translations
Website Translations
Translation Equipment Rentals
Here at Lighthouse Translations, our team works with more than 200 interpreters and translators, covering over 20 languages, we have the most experienced people in the industry available to cover your translation and interpretation needs. Rest assured that no matter what your needs are, we will deliver.
We encourage you to look around our website and discover all the great services that Boston Interpreter Services have to offer. You can access our other services pages using the links below. The best way to learn more about us, however, is to contact us using the form to the right.
While this list shows many of the most common services that Lighthouse Translations provides, it's definitely not all-inclusive of everything we can offer. If you don't see the specific service or need that you're looking for, simply please contact us, or take advantage of a FREE price quote today! We're ready to help you with all of your Boston Interpreter Services.