Orlando Interpreter Services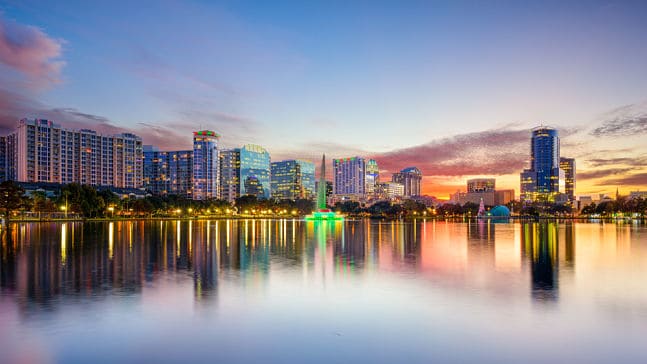 Lighthouse Translations is ready for your Orlando Interpreter Services, whether you need just the interpreter services, interpreter equipment, document translation, or all of the above, we are here to help. The city of Orlando is more than just a great place for vacation. It's also an amazing business destination whether you are coordinating a conference or business event and this city becomes your ideal point of meeting. You may be thinking if you might need an interpreter… The answer might be yes, and we recommend it 100%.
Hiring professional interpreter services can help you or the company you work for effectively and precisely communicate with those who speak other languages, across a wide range of factors and situations. Orlando is a place that is growing and changing in all the best ways.
Orlando is the second most competitive business location among large U.S. cities, certainly expanding to make business in this city requires to excel in the best way possible; Lighthouse Translations is your best option. Some of the factors to consider are the native language or culture of the other person, and some of the situations to consider are discussing legal matters or provide stakeholders with real time information in their language about your company. Lighthouse Translations can light your journey with our interpreter and translation services.
Get In Touch with Us
Orlando Interpreter Services

There's more to Orlando than Disney, although that alone is enough to make the city a major tourist destination, and business hotspot. People from all over the world come to Orlando every year. They come to enjoy the many tourist attractions, to take part in events, to attend conferences, and to simply enjoy the warm climate. If you have plans to visit Orlando, or to conduct business in the area, we strongly encourage you to consider your translation and interpretation needs. Then, no matter what services you require, we hope you consider Lighthouse when you choose your translation service provider.
Conference Interpreter Services in Orlando
Orlando city officials, business owners, and others have worked  hard to make the city a premier location for conferences and other events. If you hold your next global event here, it is sure to be a hit. We would love to contribute to your event with our conference interpretation services. We can help ensure that your guests are able to participate in your event fully without any language barriers.
About The City of Orlando
Orlando is a city in Central Florida. It's economy is largely based on tourism, however there are several businesses located there as well. These include:
This is of course a very abbreviated list. Many other businesses are headquartered in Orlando and surrounding areas. Still more have business offices or retail locations. 
Orlando is considered to be a friendly area to live and work. The cost of living is reasonably low, and there are plenty of things to do for residents, workers, and visitors.
Because it is such a popular destination, Orlando is also a hotspot for corporate events and conferences. Event organizers have their choice of amusement park properties, hotels, resorts, conference halls, and other locations to hold events of any size.  Attendees favor Orlando because of the low cost, and of course the many things to do including:
Finally, even though Orlando itself is landlocked, you can reach the Atlantic coast in an hour's drive. The Gulf of Mexico is only 90 minutes in the other direction.
When it comes to accommodations, you won't find anything better. Because it is a tourist hub, hotel brands truly pull out all the stops. You can count on virtually any place you stay to provide you and your guests with the best possible experience.
Interpreter Equipment Rental in Orlando
In addition to providing interpreter services, we will also handle all of your equipment needs. We can arrange for all the technical equipment needed for providing real-time interpretations are brought to your event. We will even handle setup and breakdown. Our team will coordinate efforts with your event coordinator so that everything is done without any issues or inconvenience.
Business And Technical Translations
Of course, our services go well beyond events. We want to be your provider for any business translation services that you need. You can count on us for translations of business correspondence, contracts, proposals, reports, and any other business related documents.
Lighthouse: The Best Translation Provider in Orlando
We have been a key provider of translation and interpretation services in Orlando for many years. It is our pleasure to assist businesses and individuals with our full suite of services. If you need translation services of any kind, we look forward to the opportunity to serve you.
Why choose Lighthouse Translations?
Interpretation is a complex and strenuous process, therefore our interpreters always maintain a professional attitude and possess exceptional linguistic and interpersonal skills to facilitate interactions between two or more languages. Lighthouse Translations offers accurate, professional, and culturally appropriate simultaneous and consecutive interpretation services for all your Orlando interpreter services.
Lighthouse Translations offers both consecutive interpreters, commonly used in one-on-one or small groups, and conference/simultaneous interpreters; generally used for large conferences or meetings where two or more languages are required.
Lighthouse Translations services:
While this list shows many of the most common services that Lighthouse Translations provides, it's definitely not all-inclusive of everything we can offer. If you don't see the specific service or need that you're looking for, simply please contact us, call us at 1.407.760.1777, or take advantage of a FREE price quote today!
When in Orlando:
Chances are you've been to Orlando, perhaps even more than once. Whether this is the first time visiting Orlando or you are returning to the city, these are a few places to enjoy while you relax from work: visit the American Art Museum, get tickets for Orlando's NBA team the Orlando Magic, take a tour to the Orlando Brewing Company or enjoy a delicious meal at a hip neighborhood at some buzzed-about restaurant.
Orlando is ranked as the best city for recreation, best foodie city and most pet-friendly city. This is not something you want to miss out!
We encourage you to browse our site to discover all that we have to offer in regards to Orlando Interpreter Services. You can access our other services pages using the links below. The best way to learn more about us, however, is to contact us using the form to the right or calling us at the number at the top.
We are thrilled to help you with all of your Orlando Interpreter Services!