Remote Simultaneous Interpreting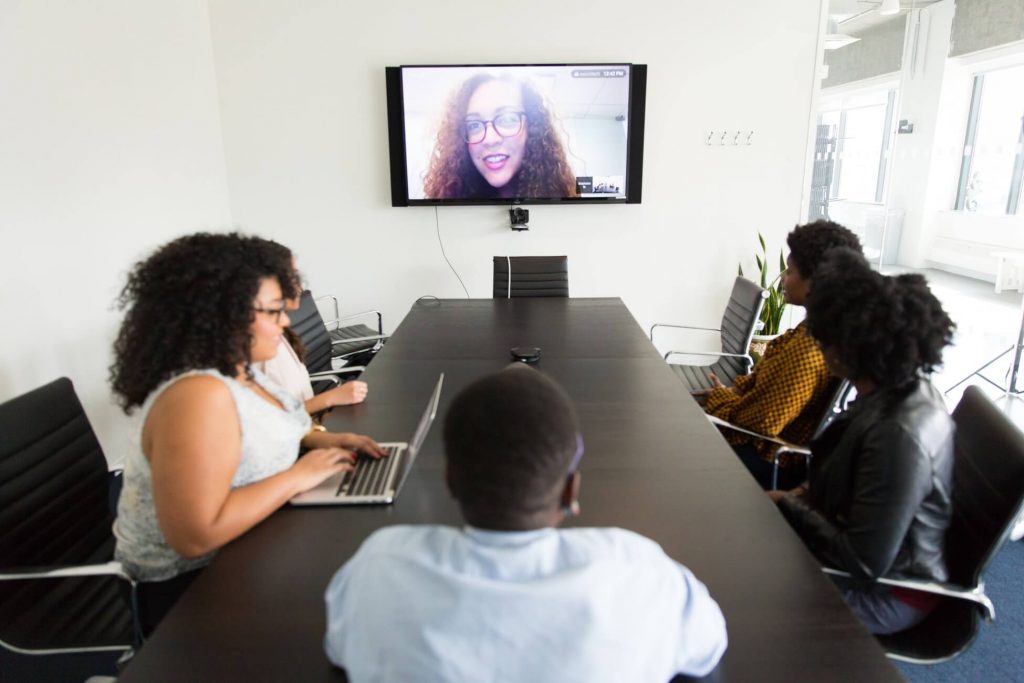 Since remote work has become increasingly popular in the last few years, it shouldn't be surprising that the 'work-from-home' phenomenon is slowly making its way through the translation and interpretation industry.
Virtual conferences, and other virtual events, have become so common that businesses, organizations, and also governments worldwide can't cope without remote simultaneous interpreters.
These days, remote simultaneous interpreting (RSI) is in high demand, enabling communication across different cultures and languages. So let's find out what this phenomenon is, why you need it, and when you should consider using it.
What is Remote Simultaneous Interpreting?
Simultaneous interpretation (SI) is the process of interpreting speech from one language to another while it is still in progress. SI is an exercise in speed, as the simultaneous interpreters need to think in two languages at the speed of light. While it might be easy to discuss simple topics, the subjects often involve business, medicine, or technology – areas with many specialized terminologies. Traditionally, the speakers, the interpreters, and the audience are all in the same location.
Remote simultaneous interpretation (RSI) is basically the same thing – the only difference is that the interpreter isn't required to be at the location where his services are needed. Instead, he is at home or in the office using a high-quality headset, computer, or mobile device to provide remote simultaneous interpretation services.
How does Remote Simultaneous Interpreting work?
RSI starts with the speaker. The presenter speaks in one language when giving a presentation or a speech. Their image and voice are live-streamed to the remote interpreter – usually through a web browser, either on a laptop or desktop computer.
An interpreter hears and sees the speaker on the device. Using high-quality equipment, such as headphones and a microphone, he translates the presenter's speech from the source language into the target language, providing him with high-quality interpretation.
Virtual interpretation wouldn't be possible without a cloud-based RSI platform, where the interpreter's speech is transmitted. RSI platforms use advanced technology to ensure that the interpretation is accurate and clear, even in noisy or challenging environments.
Just like on-site simultaneous interpretation, interpreters making remote simultaneous interpretation also work in pairs, taking turns every 20-25 minutes to ensure the highest quality of interpretation.
Members of the audience who don't speak the same language as the presenter can log into a special RSI platform to hear the presentation in the language of their choice. They can do it either through a computer or a mobile device. When using the latter, the attendees can install a simultaneous interpretation app to make the whole process easier.
This technology allows the interpreter to connect remotely. Moreover, the audience may also participate in the virtual meeting from their home or office as well. There are some meetings where the speaker, the interpreters, and the audience are all connected virtually. None of them is in the same place. This truly allows for the maximum level of flexibility and participation for these types of meetings or events.
Why should I use Remote Simultaneous Interpreting?
While there are several reasons why you might decide to use remote simultaneous interpreting, here are just a few predominant ones:
More Flexibility
Meetings or press conferences are often arranged at short notice. With RSI, you don't need to worry about the attendee's inability to understand due to the language barrier. You will be able to offer them multiple languages despite the event's location, either through traditional interpretation wireless receivers or through the attendee's smart devices.
Bigger Potential Interpreter Pool
With no flight or accommodation arrangement required, event organizers can focus on the things that matter most – choosing the most qualified interpreters for their online events.
More Floor Space
While organizing an event on which you will have interpretation, you need to provide the interpreters with soundproof booths, which take up some of the floor space. With RSI, there's no need for that, which means that you can use that space, for example, to place more chairs and invite more people to the event if your meeting is being held in a small meeting room.
Less Equipment Needed
RSI minimizes the equipment needed to have real-time interpretation available. Instead of sound-proof booths, you only need to worry about laptops, internet connection, video quality, and video equipment (if your event didn't already include it). Likewise, each attendee can bring their own device to listen to their native language or select the language of their choice on the device to listen to the event.
More Audience
RSI introduces remote interpretation solutions that allow many people to attend, from the comfort of their location, even from other countries, while being able to fully participate in their native language. This can be very attractive to individuals that wouldn't have attended and participated in the past.
Environmentally Friendly
Remote interpreters don't need to travel long distances by car or plane to provide their services. Likewise, participants can attend your virtual meetings right from their homes or office, further reducing the carbon footprint of the event. This can be very attractive to individuals that wouldn't have attended and participated in the past.
Higher Versatility
Suppose you wanted to organize a big event in a place that is not particularly easy to reach. Still, you didn't because you couldn't find professional interpreters willing to travel there. In that case, you will probably be glad to hear that with RSI, this problem will disappear. World-class interpreters can easily serve even hard-to-reach remote islands or resorts. Another thing worth mentioning is that if one of the event participants cannot be present, they can always attend remotely.
High Fidelity Sound
Even though RSI doesn't use expensive equipment, it is capable of delivering full-bandwidth sound at low latency – as well as high-quality video and lip-syncs.
IT IS COST-EFFECTIVE
While remote interpretation has its own unique costs, it is offset by not having to worry about things such as the interpreter's travel or accommodation costs. Also, there is less of a need for you to rent all of the interpretation equipment. Lastly, in all forms of simultaneous interpretation, including RSI, an experienced technician is always recommended to ensure tailored technical support.
When should I use Remote Simultaneous Interpreting?
Here are some of the situations in which RSI can be really useful:
Conferences
Simultaneous Interpretation – the traditional version of RSI – has been used during conferences for a while now, especially in large corporations with multilingual clients, as not everyone can speak the same language. That's why companies needed conference interpreters on-site to offer their services. RSI creates greater intimacy between the delegates and the speakers while saving money and time as well as improving accessibility.
Panel Discussions
Another one of the more traditional use-cases for SI – RSI will work just fine as well, allowing you not to have a limit when it comes to languages offered.
Online Meetings and Webinars
More and more companies are choosing to host online meetings instead of in-person ones, especially since the number of remote workers is increasing. A definite advantage of RSI is that many remote simultaneous interpreting platforms offer you not only standalone web conferencing service but also integrate with major video platforms, such as Zoom, Microsoft Teams, Skype, and so much more.
Seminars
In order to properly enhance the knowledge you gain during a seminar, you need to have a pretty good understanding of the presenter's language – especially if he includes technical topics in his speech. By incorporating a person offering remote interpreting from home, you are ensuring that the seminar participants have the correct understanding of the topic.
Small Meetings
Remote simultaneous interpretation (RSI) can be extremely helpful in global companies during conferences and small multilingual meetings with regional teams, as they will be able to express themselves better and with more confidence in their mother tongue than in another language they might not know that well.
Since remote simultaneous interpreting is quite new, we understand that some things might still be unclear. So, if you have any questions or doubts, don't hesitate to send us a message – one of our experts will get back to you as soon as possible.
The Bottom Line
RSI, which, in today's globalized world, has become an essential tool for businesses, organizations, and governments, is undoubtedly a vital service for any virtual event, enabling attendees to overcome language barriers and participate in their own language.
Since remote simultaneous interpreting is quite new, we understand that some things might still be unclear. So, if you have any questions or doubts, don't hesitate to send us a message – one of our experts will get back to you as soon as possible.