Remote Virtual Interpreting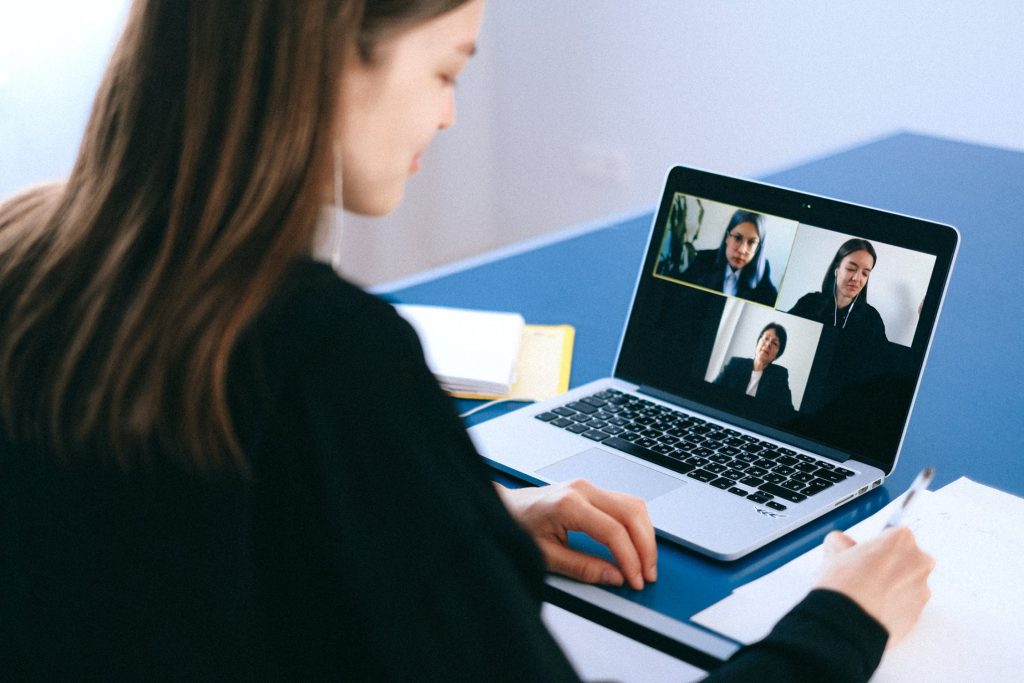 Here at Lighthouse Translations, we're committed to helping you plan all of your conferences, webinars, video chats, and more! Hosting such events often requires a well-trained group of interpreters, ready to tackle down any language barriers.
Our Remote Virtual Interpreting team is just the right fit for you – a skilled group of interpreters will help you remotely translate any conversation you require. Whether you seek on-site or remote services, we offer the best virtual interpreting in the business.
We have experience with both consecutive and simultaneous interpretation for virtual meetings via all of the platforms listed here:
Adobe Connect
Go To Meeting
Microsoft Teams
Skype
ZipDX
Zoom
Webex
Lighthouse Translations also offers live technical support and Zoom hosting for remote meetings that need language interpretation.
What Is Remote Virtual Interpreting?
Remote virtual interpreting, also known as video remote interpreting (VRI), is a type of interpreting that uses special software to deliver the interpreting service. Participants of an international business meeting, conference, or any other event in which remote interpreting is used communicate with the interpreter or interpreters with internet-connected devices, such as a phone, a computer, or a tablet.
It is worth mentioning that it is possible to also hire such a service for those who are hard of hearing and need to communicate in sign language (ASL).
Remote Virtual Interpreting – The Benefits
There are plenty of benefits when it comes to VRI. The most obvious one is that it makes communication easier – however, that can be said about any time of interpretation or translation.
So, if we're talking specifically about VRI, the most important benefit that needs to be mentioned is its efficiency. Life is full of situations that we cannot predict, and there might be a time when your company organizes an event at the last minute and finds itself in need of an interpreter.
With VRI, an interpreter can be available even the same day, depending on their work schedule, as there's no need for getting from one location to another. They can provide their services to your company from their office, or even the comfort of their own home. This not only makes it easier for the interpreter, as they save time but also for you and your company, as you don't need to worry about providing things like accommodation or specific technology that is required for on-site interpreting.
What's more, because everything is done through the internet, you can hire professional high-quality interpreters, with years of experience without worrying about where they are based, as the only thing they will need to provide you with their service is internet access and a piece of technology, such as a laptop and microphone for quality audio. This also means that it will be easier for you to find an interpreter for languages that are not as common as, for example, Spanish or French.
Hiring a video remote interpreting service can also help you win over clients. It goes without saying that people would rather do business with those that actually put effort into convincing them to do so. So, if, for example, they have a person who has problems with hearing in their team, and you hire a sign language interpreter for your meeting with them, they will see that you wanted to make sure that there are no problems with communication and that everyone is as comfortable as possible.
Why Choose Lighthouse Translations?
Lighthouse Translations prepares thoroughly for the job you need, and our wide range of Remote Virtual Interpreting services include automatic captioning for the deaf, real-time translations, and more!
Some of the benefits of having a remote interpretation meeting with us are:
Experienced remote meeting project managers
Experienced remote call technicians
Experienced consecutive and simultaneous interpreters (languages available: Spanish, English, Portuguese, French, Russian, Italian, German, Chinese, please call for others).
Dozens of satisfied customers have benefited from becoming our partner and continue coming back to Lighthouse Translations. Check out our Clients tab to get a peek at all of those who chose –and keep choosing—Lighthouse Translations for their interpretation services.
Book Your Remote Simultaneous Interpreting Services

Our services are not only highly recommended but also very easy to book! Just contact us for a Free Price Quote (send us the completed form that is available on our page), and we'll get back to you as soon as possible! And if you have any questions about our services, no matter if it's about interpretation or translation, or something is not clear, send us a message! One of our staff members will get in touch with you.
WE LOOK FORWARD TO WORKING WITH YOU!