Professional Translation Services in Miami
Lighthouse Translations has been providing premium quality document translations and interpretation solutions since 2003. With a team of over 200 native speaking professionals we can offer services in 20 different languages.
We have been honored to partner with organizations and enterprises from all over the world including; individuals, government bodies, private companies and others. The amount of services we can offer and our unparalleled emphasize on satisfaction and customer service enables us to deliver countless solutions to our clients.
We specialise in document translation, website translation, conference interpretation, business meeting interpretation simultaneous interpretation and interpretation equipment rental.
If you are looking for the Best Translation Service Provider in Miami, then look no further.
About Miami
Miami with a population of over 5 million and the largest city in Florida is a major tourist hub, additionally because of the amount of global corporate service organization who are based in Miami, the city is thought of as a Power City or Alpha level world city.
Miami is the home to over 170 multinational companies headquartered in the city, our interpretation services come in handy to guarantee you an excellent communication process with your employees and partners. Hiring professional interpreter services can help you or the company you work for communicating effectively and precisely with those who speak other languages.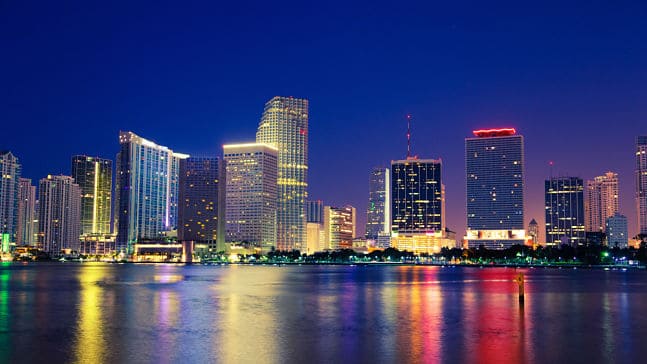 Not only is Miami multilingual (you can hear Spanish, Creole, French, Portuguese, Russian, and of course, English, all in the same street block), its events, meeting and training also reflect this language diversity.
Miami is informally known as the capital of Latin America, because of its strategic position as air and sea hub to The Americas, its large hispanic population, and its business role as headquarters for many latin american divisions of Fortune 500 and global companies. Contracting our interpretation services is the ideal way to be able to communicate effectively and do great business.
Miami is the second most popular financial hub in the country. Florida's business-friendly policies offer the perfect environment to attract business. If you are planning to do your next business meeting or conference in Miami, our Miami Interpreter Services are the way to go.
Our Miami Interpreter Services are:
Why choose Lighthouse Translations?

Interpretation is a strenuous and complex process, therefore our interpreters are qualified and possess exceptional linguistic and interpersonal skills to facilitate the communication process. Lighthouse Translations has been offering five-star service for more than 14 years and lighting the path of our partners with our interpreter and translation services.
Miami is a colourful, cosmopolitan city, revelling in its ethnic diversity. Its sunny climate and natural beauty continue to make it a prime tourist and business destination. Lighthouse Translations is the area's best resource for Miami Interpreter Services.
An essential part of planning your event will be the translation, interpretation, and the interpretation equipment you will need to have a successful multilingual conference or business event.
We are always here to help you with the planning of your next conference, meeting, training session or business event.
Business Translation Services in Miami
Our team of skilled and knowledgeable expert translators are on hand to provide you with the very best professional translation services for your business needs.
We pride ourselves as the gold-standard in delivering a comprehensive and accurate translation solution whatever your business.
 We can provide you with business translations for advertisements and Ad Copy, business correspondence, newsletters, training material and much more!
Certified Translation Services in Miami
If you require a certified translation of  any type of document, such as School diplomas, transcripts and university or for legal or immigration purposes. we're ready to assist. You can trust in the proficiency skills of our talented translators.
You can't afford to have mistakes made when dealing with certified documents. This is especially true in the area of immigration where not only will your document be declined if it is not translated correctly it could delay the immigration process by years. 
It is crucial that you use a company that has an excellent track record to deal with your paperwork. We have over 10 years' experience in providing certified translations.
Make your life simpler by getting all your documents perfectly translated and certified by the best translation service provider in Miami.
Document Translation Services Miami
Whatever type of documents you need translating our Miami document translation services have you covered. We offer a full range of solutions no matter how small or large the project is.
Business translations, financial documents, legal documents, medical and scientific, technical documents and website translations are just some of the many services we can offer you.
Family Translation Services Miami
Miami is truly a multicultural city with many families benefiting from our professional services as new family members arrive and need documents accurately translated.
If its marriage, birth or death certificates you need translating or paperwork for immigration or legal matters we have you covered.
Interpreter Miami
At Lighthouse translations and interpretations, we  offer skilled professional interpretation services to assist you maintain clear communication with your clients and partners or personal dealings.
Our team consists of certified native speakers fluent in a variety of different languages.
For your business needs our extensive network of interpreters deliver specialized knowledge in a number of different fields the scope includes; business and finance, legal, engineering, technology and medical and many others. With  a variety of specializations, you are guaranteed accurate results using the correct industry-specific terminology.
For when you require a personal interpreter by you side, we have developed our Escort Interpreting Services in Miami.  
An escort interpreter can accompany you, helping with discussion and communication between two parties. Our interpreters are specialized in a large number of subjects both for professional and informal situations.
Miami Conference Interpreters
Are you planning an event or conference in Miami? Maybe at the Miami Beach Convention Center or perhaps a venue that is a little smaller. If you are in need of interpreter services specifically tailored for your event, we are available to help.
We can assist you from start to finish providing project management guidance and a team of certified, expert interpreters. We offer consecutive or simultaneous interpreting depending on your requirements.
Interpretation Equipment Rental in Miami
We can supply everything you require in regard to translation equipment for your events in Miami. We have all the latest tech including; microphones, amplifiers, digital transmitters ,control panels, headsets and soundproof booths.
When working together with us, you can feel confident that your Project Manager have everything you need as well as a comprehensive overview of each piece of translation equipment rented.
Translation Agencies in Miami
There are many companies offering translation services in Miami and choosing the right partner for your needs can be tricky. We pride ourselves in the repeat custom we get and the many referrals.
Once you have become one of our client partners you won't ever have to look anywhere else.
While many of the new translation companies starting up are finding their feet, we are an established company since 2003 working with big name brands such as Pepsi, Unilever and Kellogg's. As well as Global organizations such as the United Nations.
If you want peace of mind that your documents are in good hands, then trust in Lighthouse translations and interpretations.
The Benefits of Working with Us
The Right Credentials
Lighthouse Translations have been providing translation solutions throughout the USA for over 16 years . Our interpreters and translators are all certified members of the American Translators Association, in addition to several other industry organizations including the Miami Visitors & Convention Bureau.
Guarantee of Quality
We pride ourselves in error free documentation. Each translation documentation project we work with goes through a vigorous quality control test.
We evaluate and revise all translation work performed to guarantee context, grammatical correctness, style, localized word use, intended meaning and the overall theme.
A team comprised of three translation specialists are always designated for each and every project a translator, editor, and a proof-reader. They work together to make sure the accuracy and suitability of the translated document is precise and correct.
Confidentiality
We recognise the seriousness of confidentiality and security and don't take it lightly. We follow a strict code of professional ethics to ensure confidentiality for every single project that we take on.
We also can supply confidentiality and non-disclosure agreement if required for increased security.
As corporate members of the ATA we fully abide by the ATA's Code of Ethics and the ATA code of Business Ethics.
Your Translation Company in Miami
Whatever your interpreting or translating requirements in Miami we are available to discuss it with you, feel free to contact us and become one of our valued client partners.