Miami Interpreter Services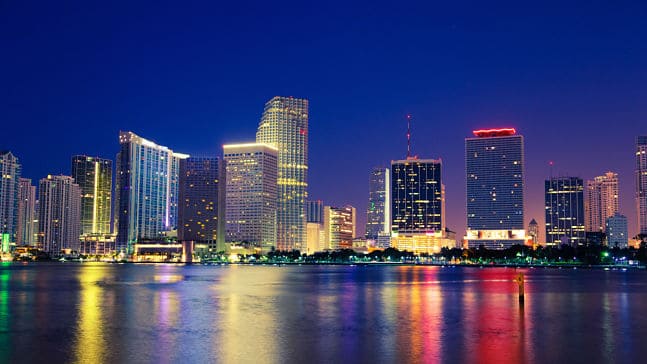 Miami is a colorful, cosmopolitan city, reveling in its ethnic diversity. Its sunny climate and natural beauty continue to make it a prime tourist and business destination. Lighthouse Translations is the area's best resource for Miami Interpreter Services.
We are always here to help you with the planning of your next conference, meeting, training session or business event. An essential part of planning your event will be the translation, interpretation, and the interpretation equipment you will need to have a succesful multilingual conference or business event.
Not only is Miami multilingual (you can hear Spanish, Creole, French, Portuguese, Russian, and of course, English, all in the same street block), its events, meeting and training also reflect this language diversity.
Miami is informally known as the capital of Latin America, because of its strategic position as air and sea hub to The Americas, its large hispanic population, and its business role as headquarters for many latin american divisions of Fortune 500 and global companies. Contracting our interpretation services is the ideal way to be able to communicate effectively and do great business.
Miami is the second most popular financial hub in the country. Florida's business-friendly policies offer the perfect environment to attract business. If you are planning to do your next business meeting or conference in Miami, our Miami Interpreter Services are the way to go.
Hiring professional interpreter services can help you or the company you work for communicating effectively and precisely with those who speak other languages. Miami is the home to over 170 multinational companies headquartered in the city, our interpretation services come in handy to guarantee you an excellent communication process with your employees and partners.
Why choose Lighthouse Translations?

Interpretation is a strenuous and complex process, therefore our interpreters are qualified and possess exceptional linguistic and interpersonal skills to facilitate the communication process. Lighthouse Translations has been offering five-star service for more than 14 years and lighthing the path of our partners with our interpreter and translation services.
Our Miami Interpreter Services are:
Around Miami:
It's not all about work… And Miami is the perfect city to mix business and pleasure. Miami is a fun city! It is a mixture of diverse cultures, art and the ocean. You can visit wonderful art museums and the blossoming gastronomic scene. We recommend visit Little Havana, walk through and be inspired by the Wynwood Walls and of course, Miami Beach.
Most importantly, don't forget to contact us on how to assist you on the planning of your next conference or business meeting with our expertise in interpretation and translation we'll put your mind at ease.
If you don't see the specific service or need that you're looking for, simply please contact us, call us at the number at the top or take advantage of a FREE price quote today!
We're ready to help you with all of your Miami Interpreter Services!
Get In Touch